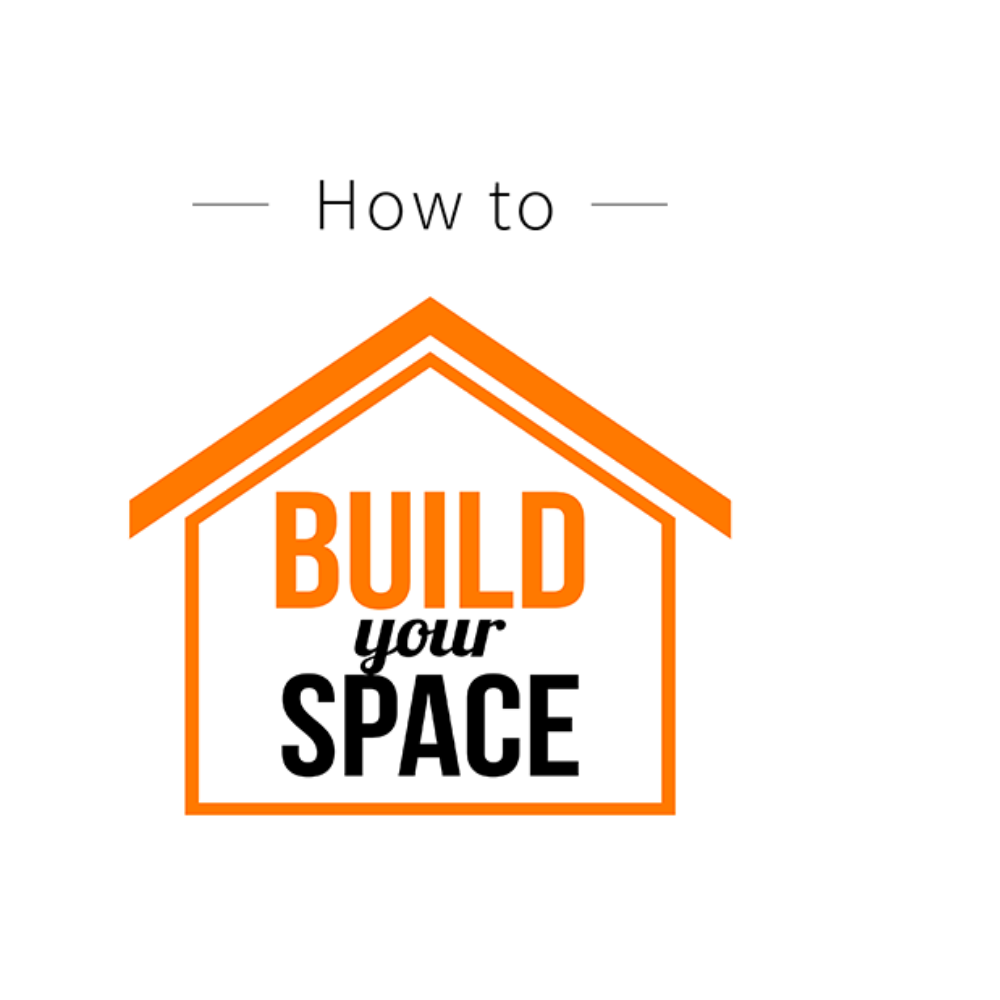 Do you need an accessible home but are not sure where to begin?
Julie Sawchuk has been there before and she has even written the book about it!
Introducing:
How to Build YOUR Space
Now you can have the step-by-step guidance you need to build YOUR home exactly the way you need it for you, your family and your future.
When Julie Sawchuk sustained a spinal cord injury at the age of 41 she had to learn how to live in a new body and use a wheelchair for mobility. As a wife, mother of two and highschool teacher it was not easy to return to her former life on their farm.
Julie quickly learned that traditional homes are not built for accessibility. It was a major decision to build a new home, but even harder than that was finding the information they needed to build an accessible home.
After a serious amount of research and touring other homes, Julie and her husband Theo finally settled on a house plan - but the plans on paper were just the beginning!
🏡How to Build YOUR Space🏡
is a self- paced online course that helps you and your design team plan and build an accessible home. 


Get started right away with Julie Sawchuk's video tutorials and ready to print 53 page workbook.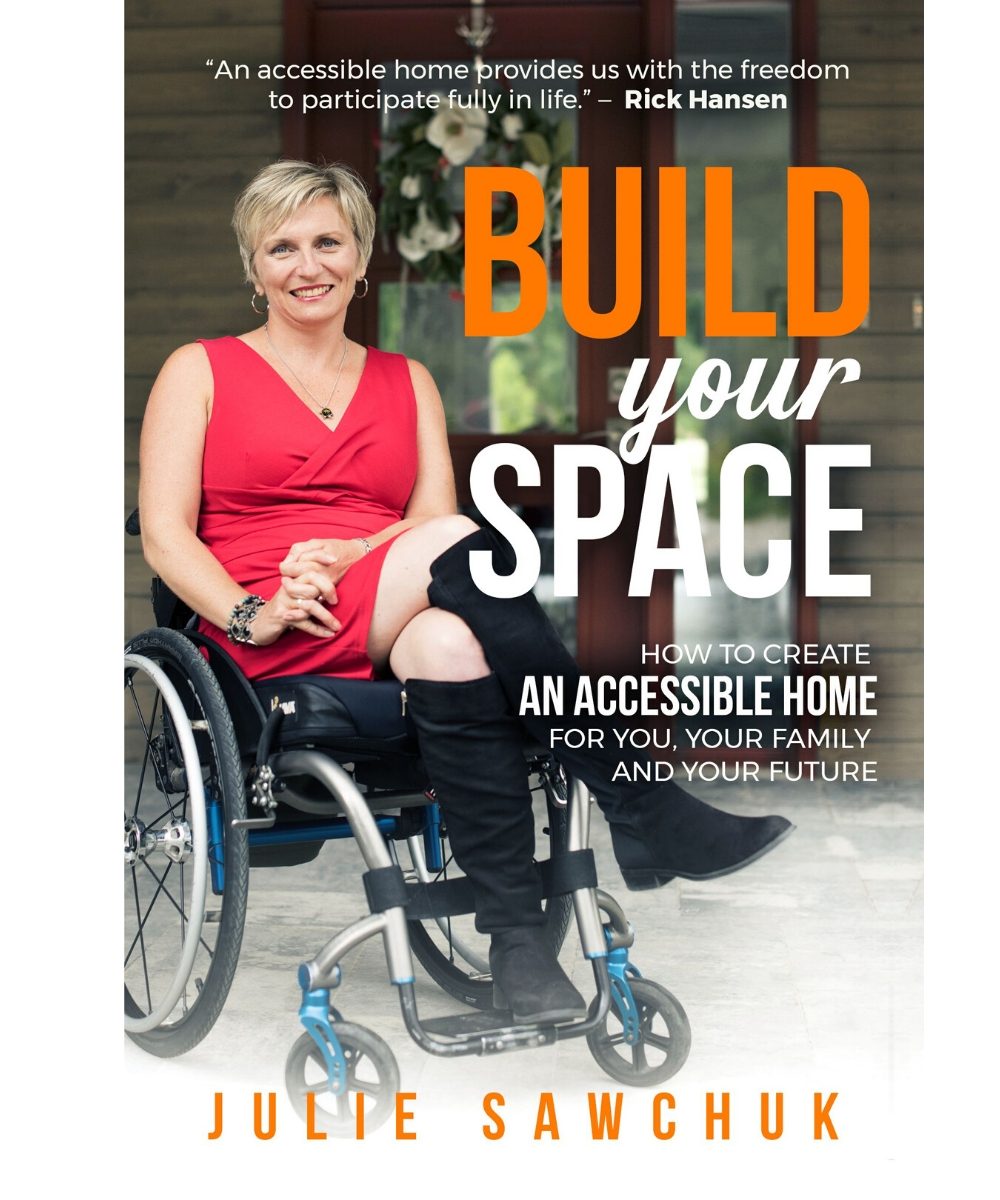 It took way longer than it needed to - we didn't know what we were doing or where to get started.
We had no checklist to work from and no an expert to guide us. We had a team who was willing to learn, but they had little experience with accessibility.
Throughout the process I learned that every half inch of distance and every degree of slope made a difference for safety. All the extra time that it took to research, plan, change plans (34 different drawings) and even start again cost a lot of extra money.
We could have saved thousands of dollars if only we had known what we were doing.
All the while I was living in a home that was not built for a wheelchair user - that house was literally sucking away my personal energy reserves with every day longer that we lived there.
I could not tuck in my kids at night, every time I reached into the fridge I rolled backwards and I even needed help to shower. It's not just a ramp and grab bars - there is so much more to making a home truly accessible.
What will you get when you sign up for How to Build YOUR Space?
Six Modules:
Lessons and instructional tutorials focused on helping you achieve safety, independence and dignity.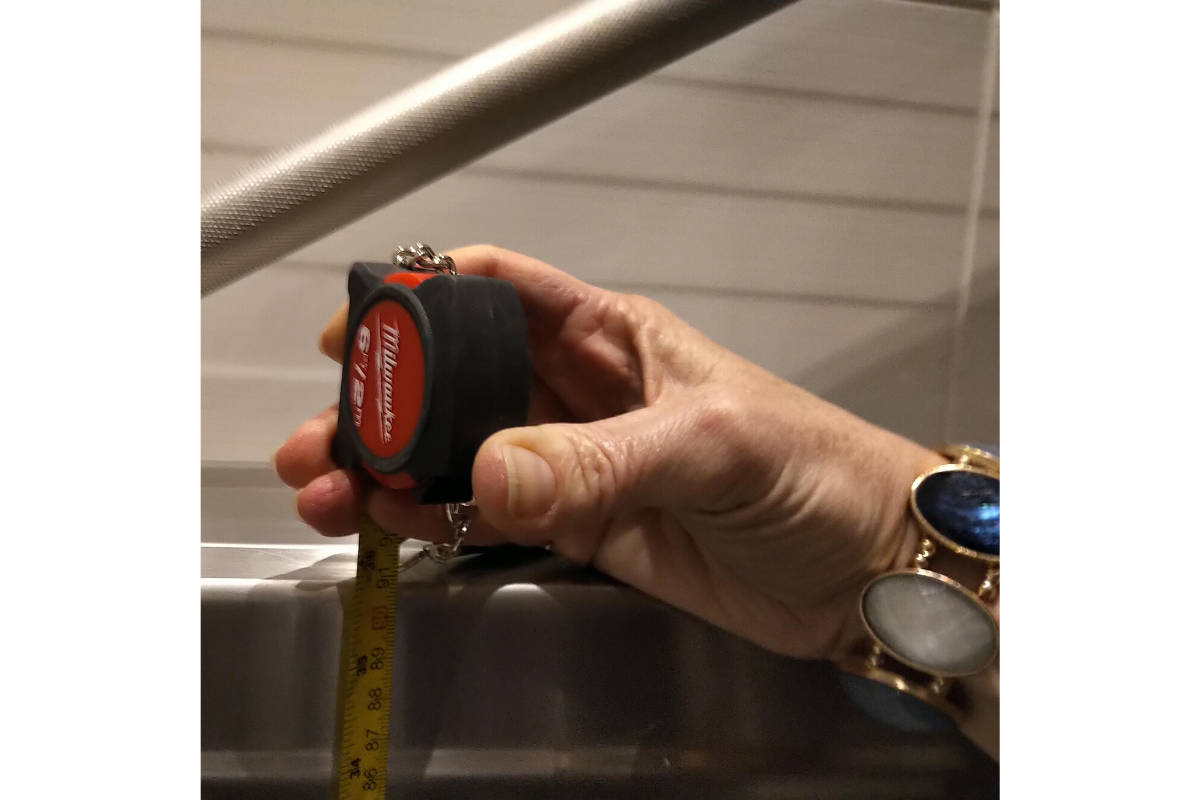 Instructions:
For making proper measurements, choosing fixtures and looking at traditional house-building decisions through a different lens.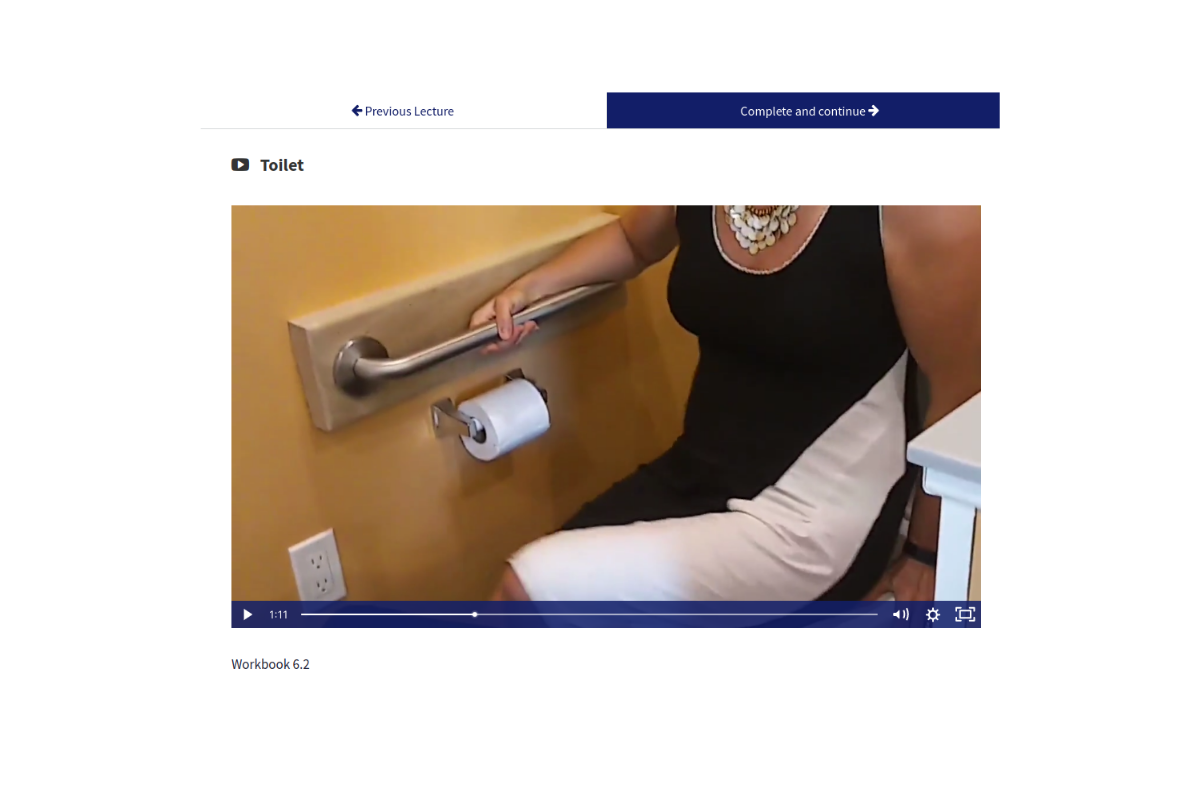 Video tutorials:
Julie will show you every space in her home and will help you understand everything you need to consider - through every stage of planning and construction. From toilets to toothbrush!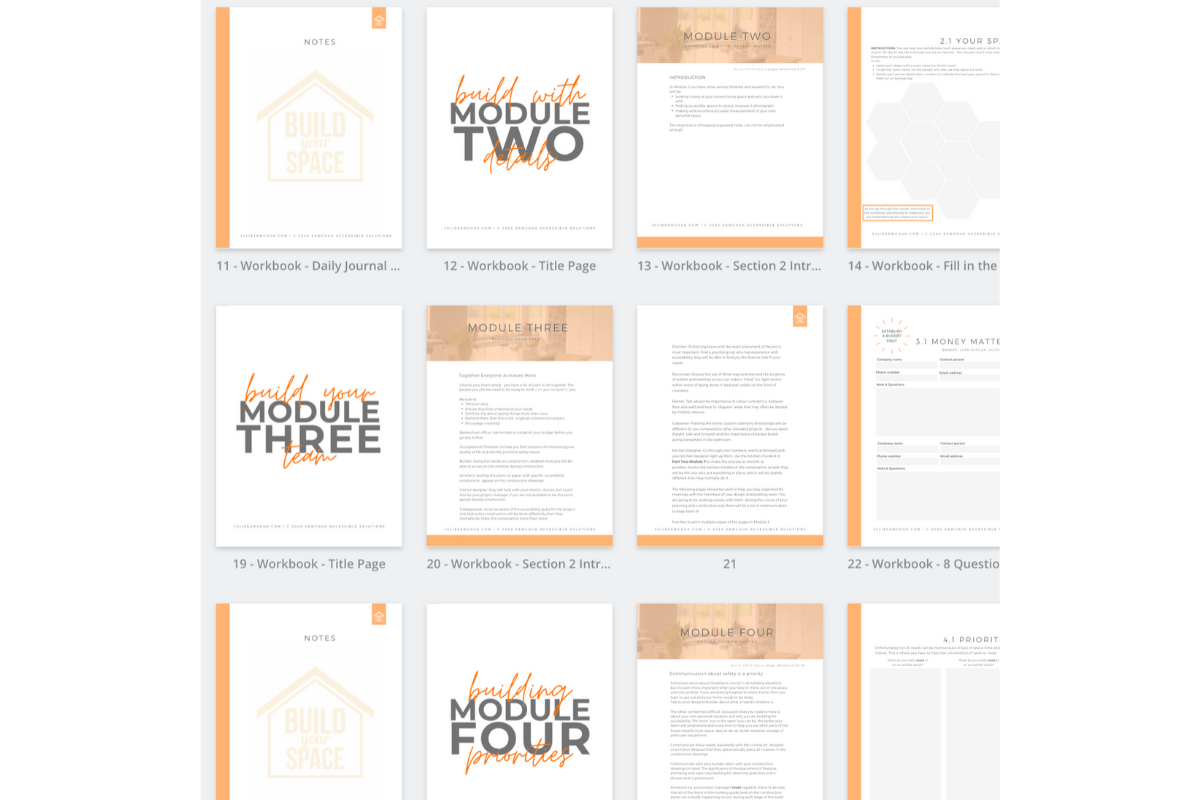 A 53 page workbook:
Ready to print and full of information, checklists and guides for planning your spaces. The workbook is designed to help you stay organized and makes it easy for you to share the right info with the right people on your team.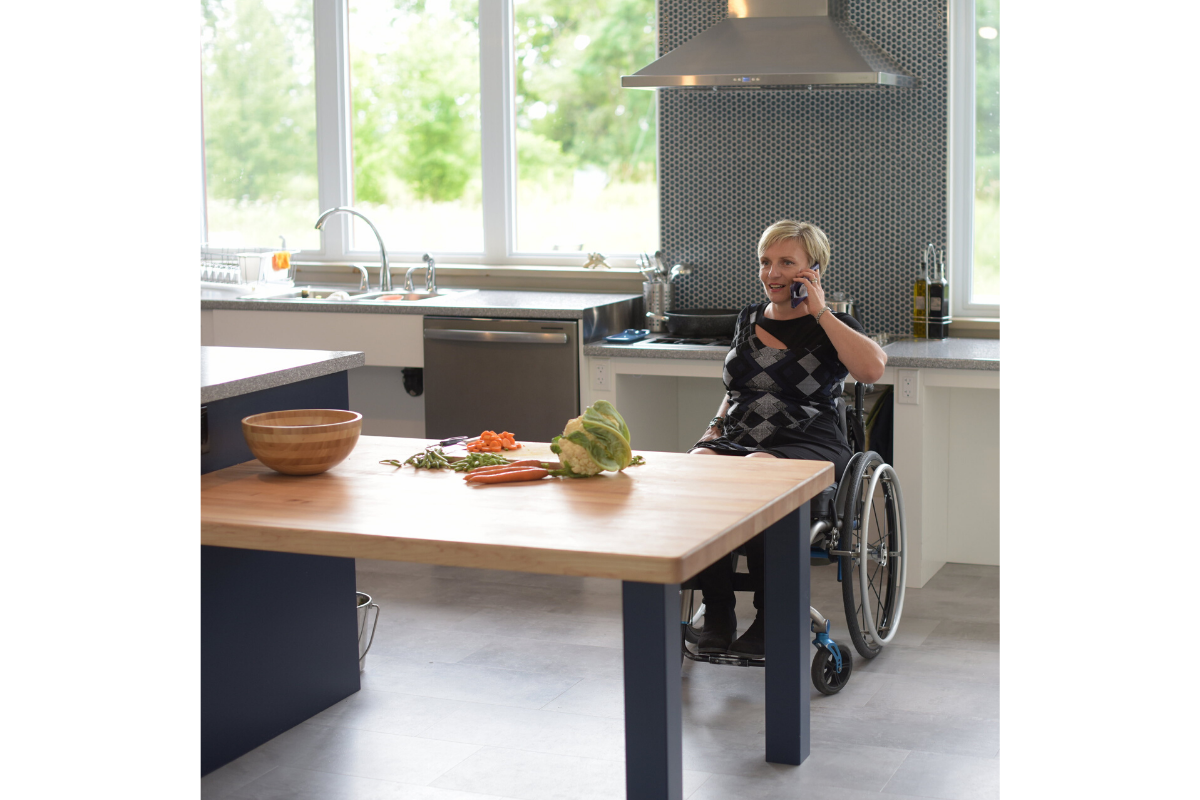 Free:
One 30 minute video or phone conversation to discuss your vision, review your ideas and/or your building plans with Julie.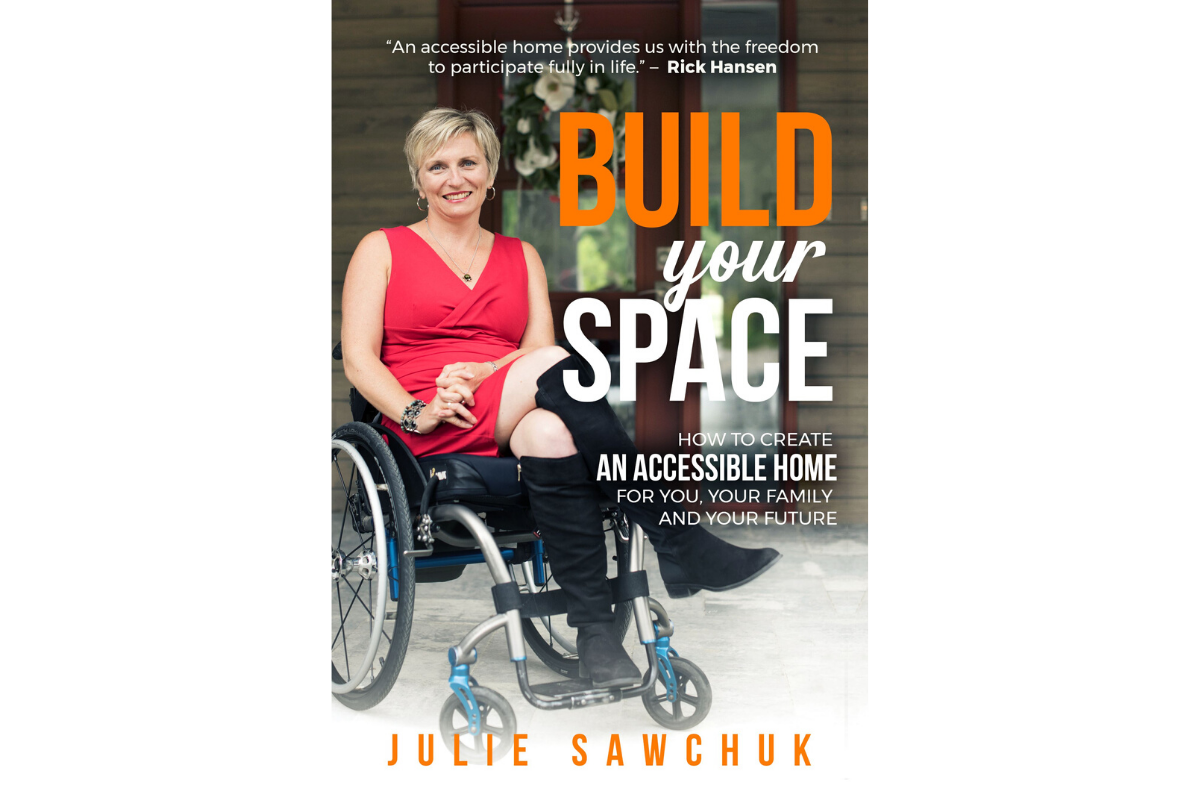 Your own copy of:
Build YOUR Space: How to create an accessible home for you, your family and your future
A signed copy to arrive in the mail so you can read Julie's whole story of the build, and use it as a reference.
What will you learn in Part One of How to Build YOUR Space?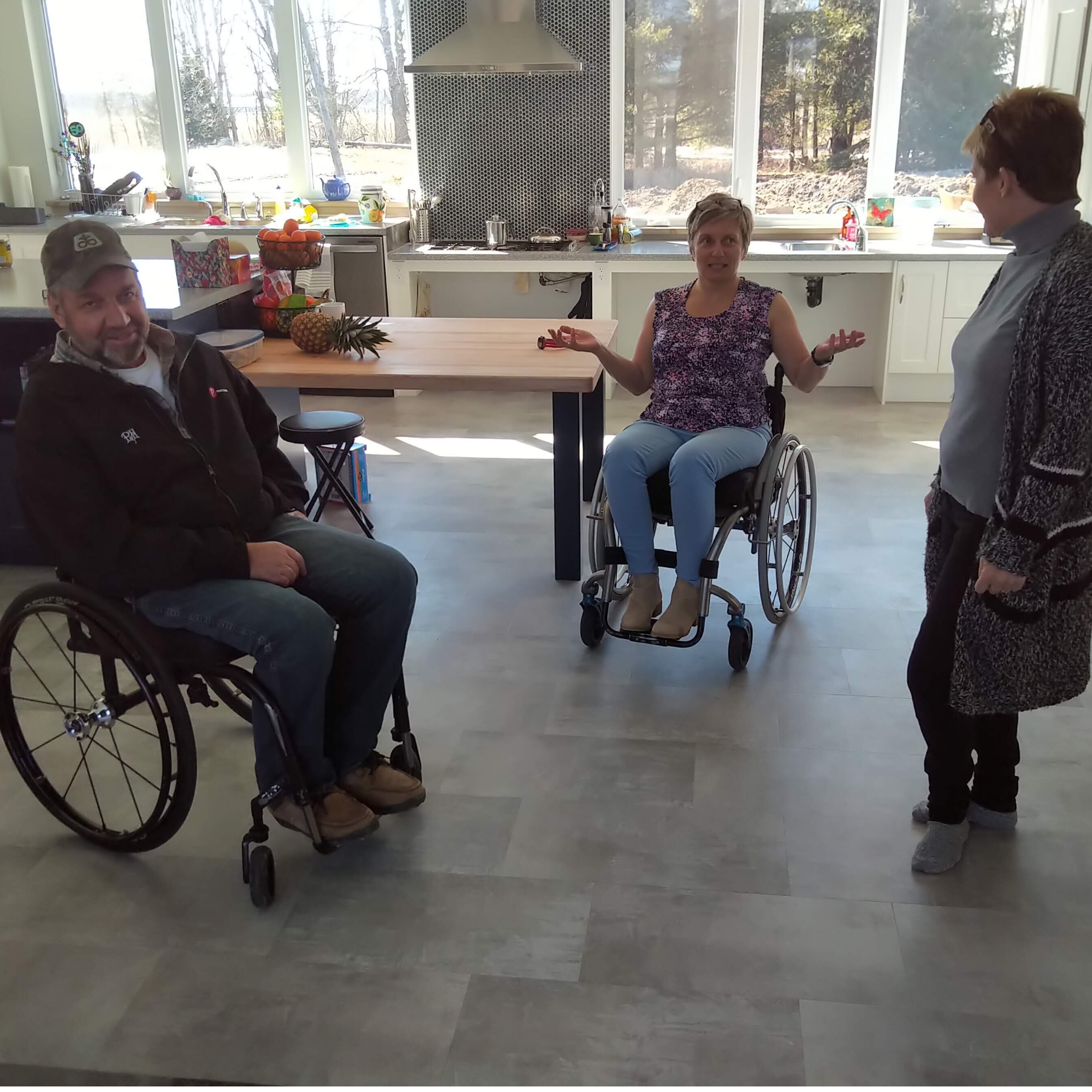 Start with a vision - how do you want your space to feel? Bright, roomy, level, clear, and most of all safe!
How to Build YOUR Space begins by helping you develop your vision for how you want your space to work for you and the people you live with.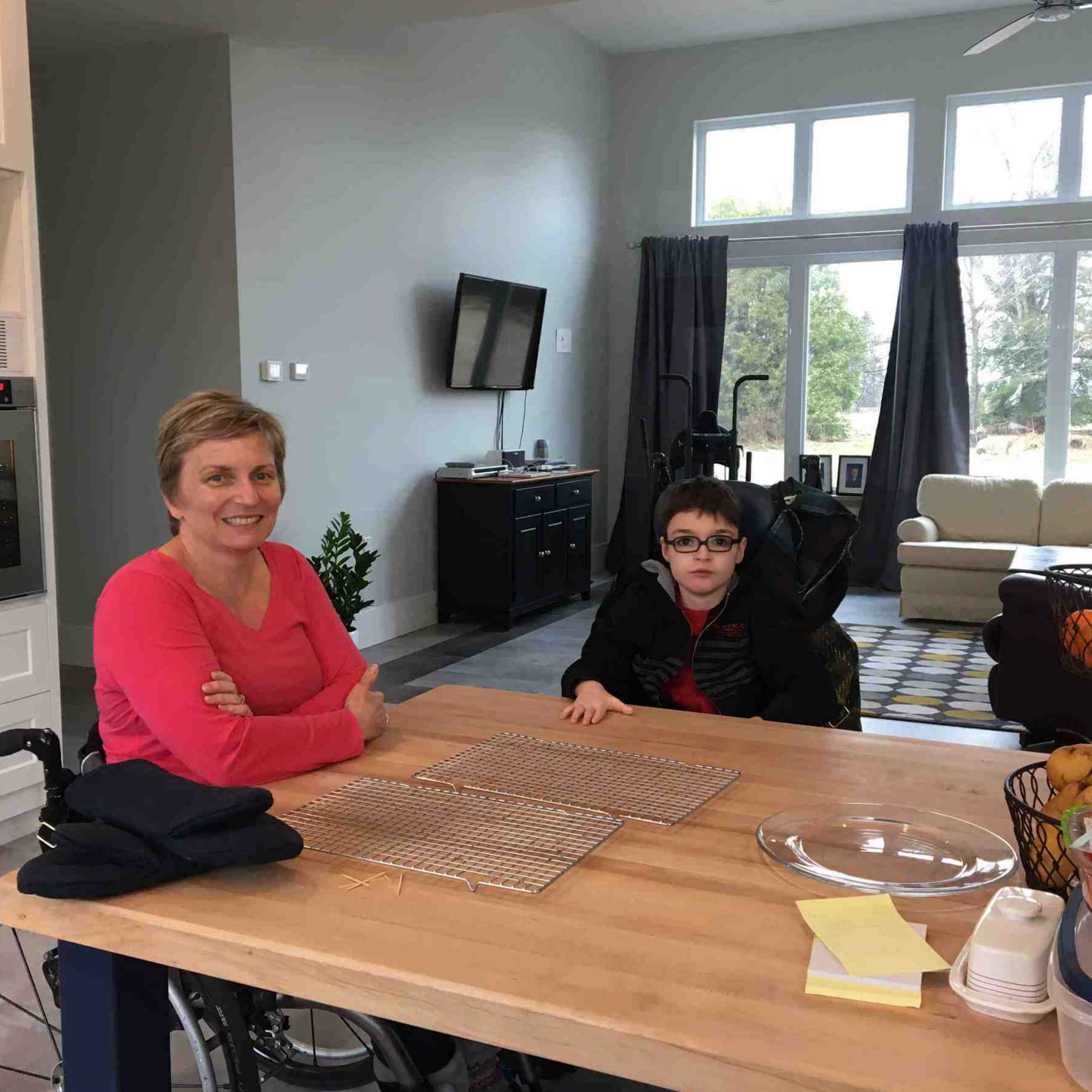 Next, you will learn the importance of trying out other accessible spaces to learn what you like and don't like.
How to Build YOUR Space takes you through the importance of proper measurements and choosing the right people for your design & building team.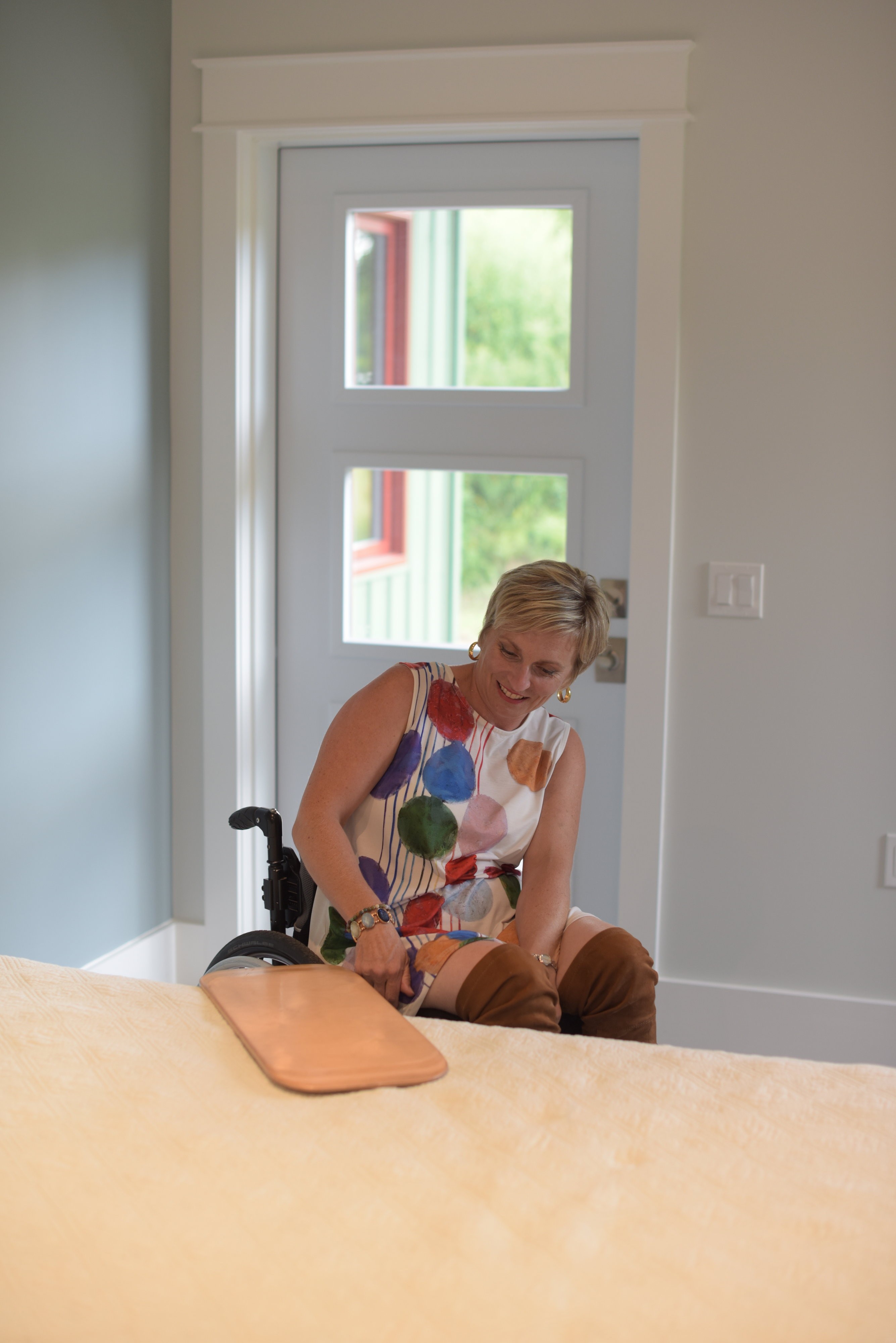 Finally, whole home solutions that will make everyday activities easier — from laundry to parking the car!
There are a lot of decisions that get made when building a home that could be made through the lens of accessibility. Doing so helps you have level thresholds, room heating and cooling that works for your body and windows that you can operate.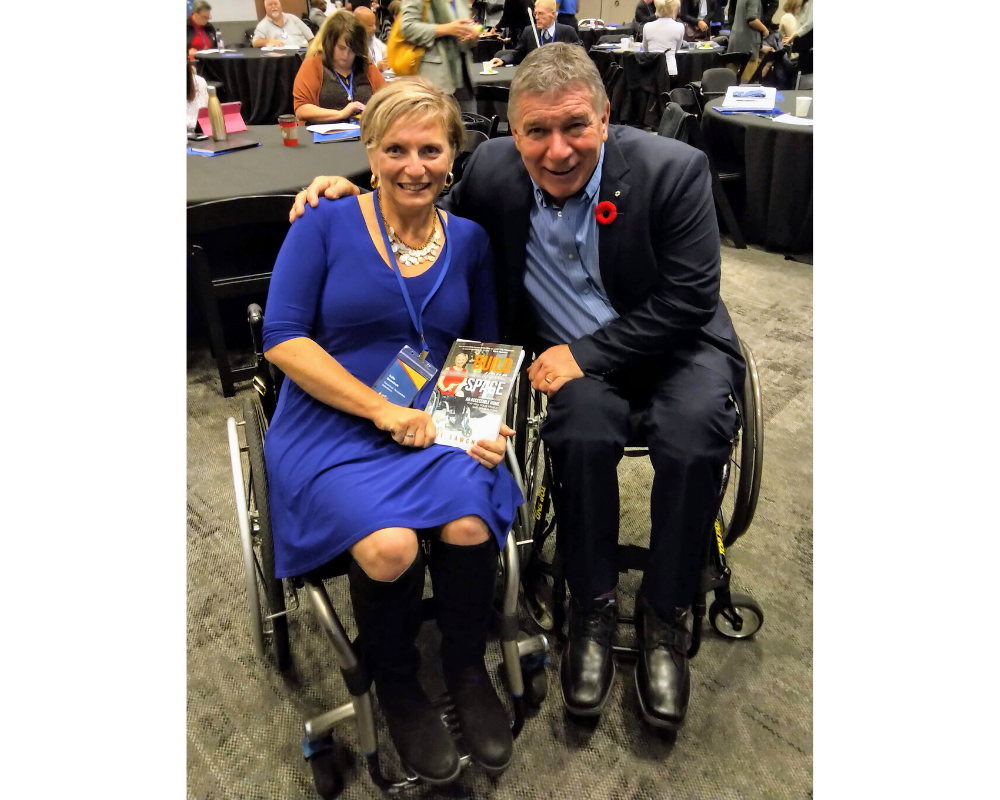 "Julie provides a thoughtful planning checklist of consideration to barriers, but also practical solutions to safely achieve independence at home that will help anyone living with a disability or caring for someone with one"
- Rick Hansen
Founder, Rick Hansen Foundation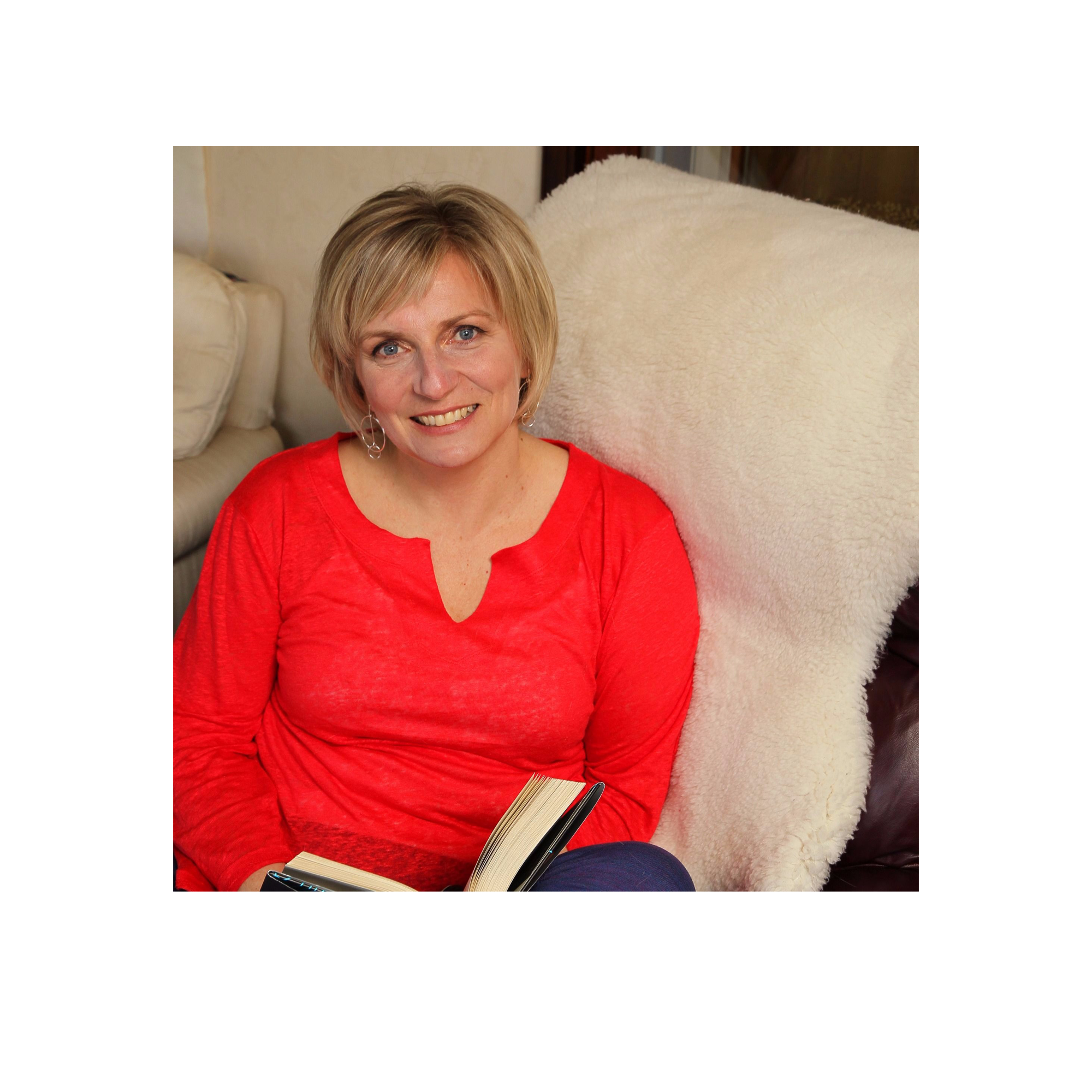 Julie Sawchuk is a best-selling author, professional speaker and designated Rick Hansen Foundation Accessibility Certification (RHFAC) professional. Julie combines her experience of living with a spinal cord injury with her passion for helping people make smart decisions when planning for accessibility.
After completing the construction of her own fully accessible home, Julie authored Build YOUR Space - How to create an accessible home for you, your family and your future. Julie's home is a showcase of how accessibility is not just functional, but also beautiful. Ready to make your home accessible?
Website: www.juliesawchuk.com
Here's what happens when you sign up:
Julie will send you an email welcoming you to the course.

You will get immediate access to all materials for module one so you can get started right away.

You will have the option to book a call with Julie.

A copy of Build YOUR Space will arrive in the mail!
❔ Frequently Asked Questions
When does the course start and finish?
The course starts now and never ends! It is a completely self-paced online course - you decide when you start and when you finish.
How long do I have access to the course?
How does lifetime access sound? After enrolling, you have unlimited access to this course for as long as you like - across any and all devices you own.
Still have questions?
I'm happy to answer any questions you may have so you can determine if this course is right for you! Email me at [email protected]